Kazuo Igarashi Shihan — 7th Dan,Technical Director
Born in 1946, Igarashi Sensei began Aikido in 1964 at the Meiji University Aikido Club under the instruction of Kobayashi Sensei. In 1973 he became one of the leading uchi-deshi at Kobayashi Dojos serving as a teaching assistant. In 1983 he established Aikido Igarashi Dojo in the Tokyo Kanagawa area where he regularly teaches at his six dojos as well as overseas in Europe, USA, Canada, Mexico, Australia, Taiwan and Korea. Igarashi Sensei regularly visits Calgary Aikikai from Tokyo to hold seminars and teaching workshops. The day-to-day teaching is conducted by Inaba Sensei's senior students. Igarashi Shihan's Website
Chris Hayward — 4th Dan, Dojo-Cho
Chris started training in 1996 with Yasuhisa Inaba Shihan, and they became very close friends. Sensei was always so calm and had a very happy disposition. "Treat people with respect, train hard, and have fun!" The basics that Sensei taught us stay deeply ingrained in the mind and by following his teachings, he is never far away. As Dojo-Cho (Administrator/Senior Student) at Calgary Aikikai, Chris takes care of much of the "day-to-day" operations. He has travelled to both Japan and Hawai'i twice, with Sensei and other students to train and visit our "brothers" in Aikido. Aikido has became a religion and a lifestyle. Just as many people make sure they go to church every Sunday, Chris spends his time training students and learning from other instructors, while being watched by the portrait of Inaba Shihan that is set out at the front of every class in his memory. Chris's other interests include watching the rest of his family play soccer, traveling to other countries, music and photography
Andrew Barron — 3rd Dan


Andrew was born in England and raised in Alberta. A past member of four Olympic Speed Skating Teams ('72 and '76 as an athlete and '88 and '94 as a coach), he is currently a teacher with the Calgary Board of Education.  At 49 years of age, after four years of hapkido, a few broken noses, he sought a martial art that challenged his mind as much as his body. He met Inaba Sensei at Calgary Aikikai and discovered aikido in 2000.
Andrew's initial goal was to get his shodan (black belt) before reaching his mid-fifties. After a few months, however, it was no longer the belt, but rather the challenge of slowly discovering as much as he could about this unique martial art. Under the guidance of Inaba Sensei he worked his way through the ranks, achieving his shodan in 2006.  Following his sensei's passing he continued to study and test under Igarashi Sensei of Hashimoto, Japan.
Andrew has found aikido to be one of the greatest challenges he has undertaken.
Says Andrew: "Aikido requires focus, study and perseverance to develop an understanding of its intricacies. It is a unique combination of philosophical, physical and intellectual experiences. Through my time practicing I have discovered that the dojo is not a place to simply come for a workout, but rather a place to practice skills and patience, while learning with others in a cooperative setting." www.andrewbarron.ca
Shane Fielder — 3rd Dan
Shane began his aikido training in 1994, in his hometown of Edmonton. Over the years, Shane has had the opportunity to attend seminars and train under prominent aikido teachers throughout North America. In 2009, he moved to Calgary as part of a career promotion. Shane chose to train at Calgary Aikikai given his training experiences with Inaba Sensei. Prior to joining Calgary Aikikai, Shane was affiliated with Northern Alberta Aikikai and the California Aikido Association. Through his teaching, Shane communicates the importance of the principles behind all aikido techniques.
Arran Fisher — 3rd Dan
Arran began training at Calgary Aikikai under Inaba Shihan in 1995 and immediately became fascinated with the depth and range of this amazing "Way". As a professional musician and studio engineer, he approaches aikido in the same manner he does music: as both an art and a technical practice. He has trained at over 20 aikido dojos in Canada, USA, Japan, UK, Germany and Qatar, so he brings a diverse background into the classes he teaches, while staying true to the teaching and methods of our dojo's founder. He hopes that he can instill in his students the desire to follow aikido's thread for a whole lifetime. He tries to ensure that everyone really enjoys the training, following Inaba Sensei's teaching that a good dojo is one that fosters friendship and good will.
Arran is a Bachelor of Philosophy and is a fan of James Baldwin, Noam Chomsky, Norman Fischer and excellent coffee.Arran's Website
Todd Lachance — 3rd Dan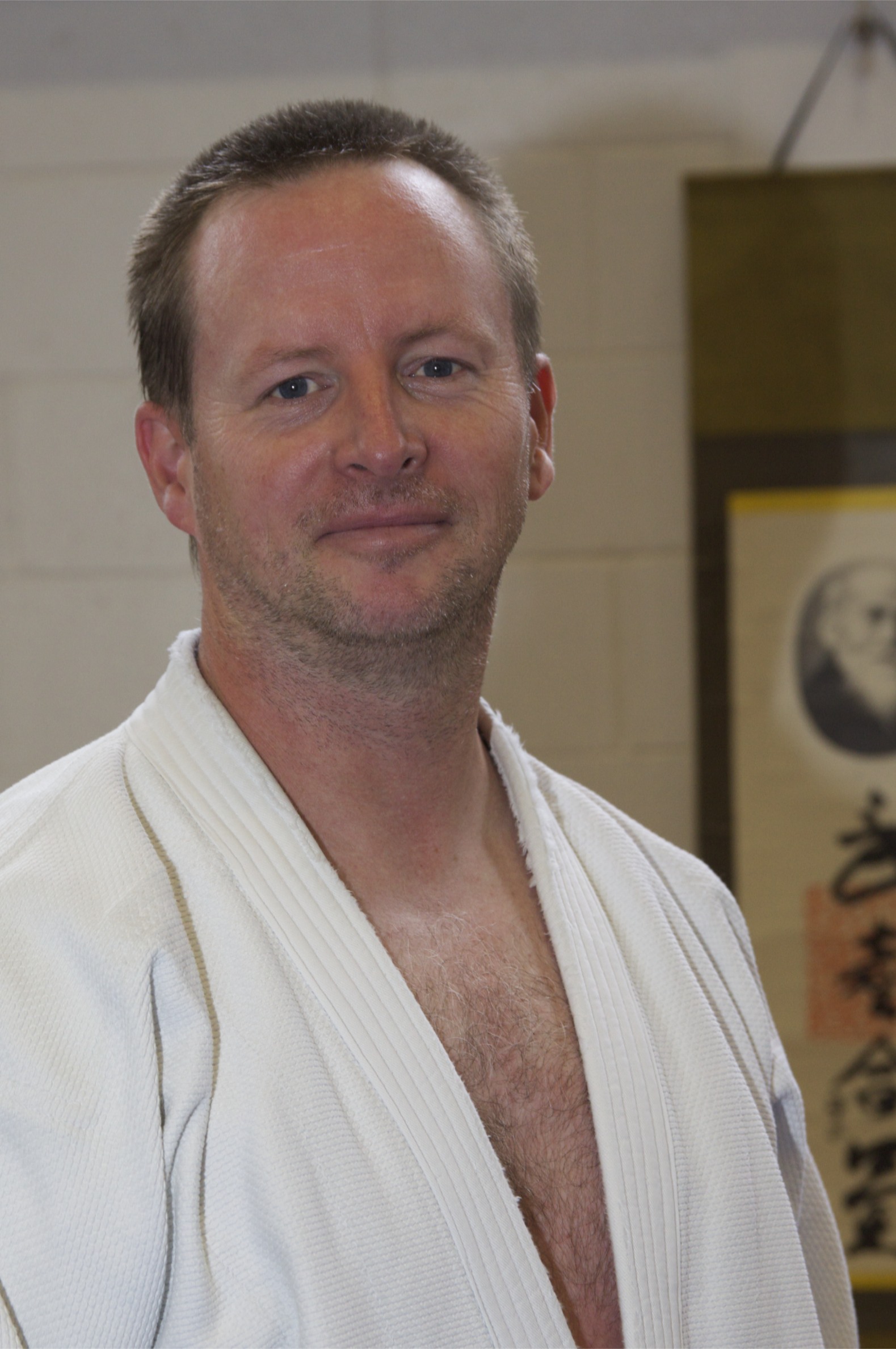 Todd began his aikido training in 2000 and began teaching in 2003. More importantly, he holds the honour of being the only recipient of a gift certificate for Calgary Aikikai, from Inaba Sensei! He has experience in many sports and has an extensive athletic background. For many years he ran the children's program in our dojo.
He has taught different sports and art for over twenty years. He is a professional representational painter: focusing on figure, portrait, landscapes and still life. In their spare time, Todd's family likes to hike. Todd's Website
Takashi Kobayashi — 2nd Dan, Children's Chief Instructor
Takashi trained under Inaba Sensei for a number of years before taking over the children's program in 2008.  Under his guidance the program has grown to near capacity with many of his senior students becoming Junior Instructors in the program.  In the last few years Takashi has travelled to South America and Japan where he has attended seminars and practiced with a number of well know teachers.
Colin Nicholas — 2nd Dan


Colin has been training continuously with Calgary Aikikai since starting at the age of five. He began training in the children's class under the direction of Steve Erickson before starting adult practices under Inaba Shihan at eleven. He obtained his shodan in 2009 at 16 years old, shortly after the passing of Inaba Sensei. In 2011, Colin trained intensively under both Yasuo Kobayashi Shihan and Kazuo Igarashi Shihan for three months in Japan and hopes to return in the future for further training. As an instructor, Colin enjoys teaching, but what truly draws him to the mat as a teacher is the opportunity to learn from others as they train.
Currently, Colin is a student at the University of Calgary, working towards his Bachelor of Science, majoring in zoology. He hopes to continue his education in the field of veterinary medicine in the near future. When not studying, Colin can be found in the mountains, snowboarding, or underwater in the balmy Victorian waters as a scuba diver.